Two types of tours are available for community members to learn about NAWMA's operations and services and to see how resources are recovered and processed for reuse. Both types of tour are free and available to residents over the age of 18 from Salisbury, Playford and Gawler Councils and people who work with groups in these areas.  Please read further details about the two types of tour below.
Regular tours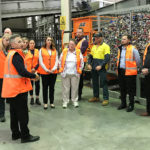 These tours run for around 1.5 – 2 hours and are conducted in our purpose-built Adult Education Centre at Edinburgh. Participants listen to a presentation about NAWMA's operations and services, and how these fit into the wider waste management and recycling context including the circular economy. Participants also view examples of local businesses that are driving the circular economy and see how the principles of the waste hierarchy were followed to sustainably fit-out the Education Centre. A walkthrough of the Material Recovery Facility (MRF*) is also included to see first-hand how the contents of yellow-lid recycling bins are sorted. These tours are open to local community groups and individuals.
Facilities tour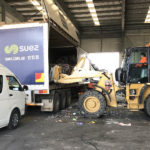 Run just a few times a year, these tours go for around 4 – 5 hours. Participants visit NAWMA's Education Centre, MRF*, Resource Recovery Centre and combined balefill/Renewable Energy Park. Participants meet at a designated point and take a guided bus tour of the facilities (as well as visiting the Ed Centre and MRF as outlined above). There are other opportunities for getting off the bus throughout the day including during a lunch break at Freemont Park. The tours are not open to whole community groups as places are limited.
*Note: The MRF and NAWMA's other sites are operating industrial sites so they can be noisy, dusty and smelly. All people entering the sites are required to wear enclosed shoes and NAWMA can provide ear plugs upon request.
If you would like more information or to book a place on a tour, please contact the NAWMA Customer Service Team on 8259 2100.