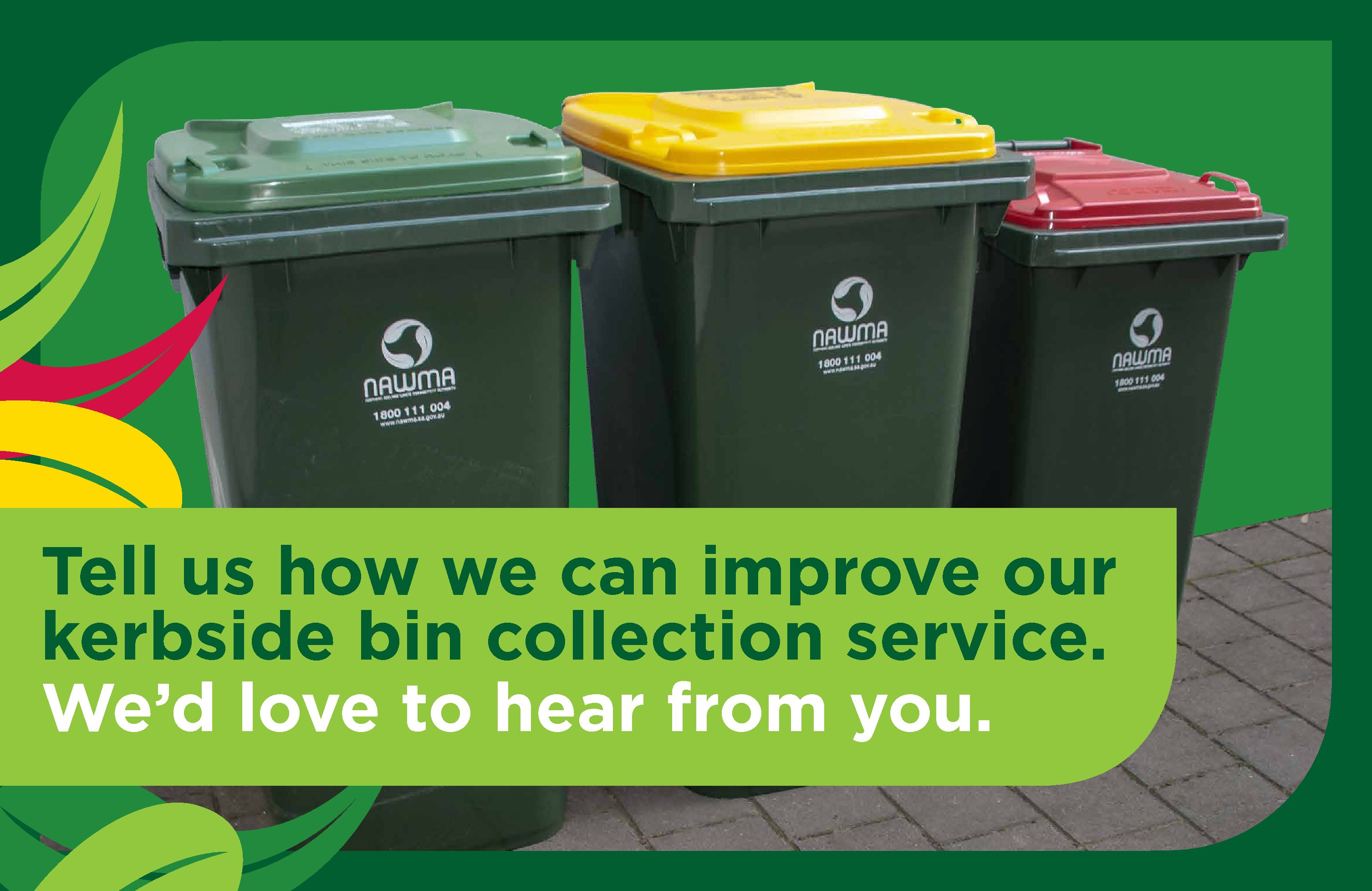 Community Survey
NAWMA is conducting a survey to find out how we can make our kerbside bin service more user-friendly and we would love to hear from residents of the Salisbury, Playford and Gawler Councils. Complete the survey to tell us what you think and you can also enter the prize draw.
We have a problem with contamination of the yellow-lid recycling bins and this affects our capacity to recover material for recycling at our Material Recovery Facility (MRF). In fact, on some days, up to 40% of the material received via the yellow-lid recycling bins is contamination.
The contamination that we see includes a variety of things ranging from inert (e.g., textiles and crockery) to dirty and hazardous (e.g. used nappies, gas bottles and asbestos), which pose a threat to the health and safety of our staff who hand sort the material.
Items such as unwashed food containers, medical waste, food scraps and engine oil can all contaminate other clean items rendering them unsuitable for recycling.  This means items that could otherwise be recycled into new products, must be sent to landfill and more virgin natural resources must be extracted from the environment.
How much does it cost the community in dollar terms?
NAWMA is a subsidiary owned by the City of Salisbury, City of Playford and Town of Gawler. Revenue generated from the sale of recyclables is used to help with running the MRF and surplus funds are distributed back to the Constituent Councils.  When recycling is contaminated, the loss of revenue from unsaleable items, added to the costs of damaged MRF equipment, additional maintenance, handling, disposal and transport costs amounts to approximately $100,000 for every 1% contamination annually. This is an avoidable expense and a drain on council funds!
We need to work with our community to find out how we can improve our kerbside bin service so that residents can sort their waste more effectively and enable more items to be recovered and reused. The more people who complete the survey, the better idea we will have about how to improve our services.
Please complete the survey here. We look forward to getting your feedback.